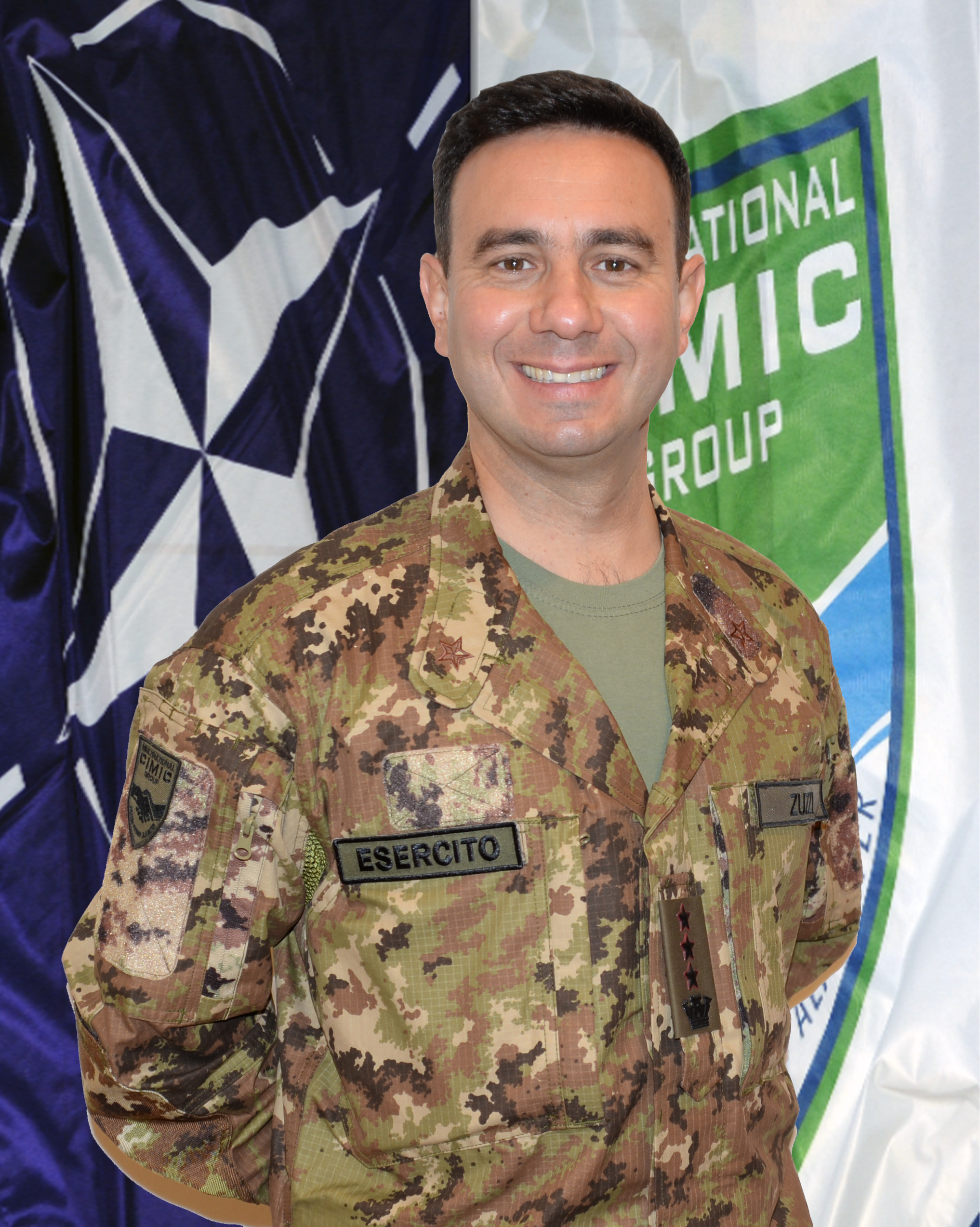 Colonel Mattia Zuzzi

Colonel Mattia Zuzzi was born in Udine on the 26th of February 1975, spending his youth between Friuli Venezia Giulia region and sunny Arizona (Paradise Valley) in the United States of America, where his parents used to send him and his brothers every year for long summer vacations, visiting uncles and close relatives.
At the age of nineteen, after having earned a bachelor degree of Classic studies at the High School (Ginnasio Liceo Classico), he got admitted to the Italian Army Military Academy, class 176 (1994-96). He commissioned on the 1st of September 1996 as Second Lieutenant (Artillery branch), was promoted two years later as First Lieutenant and completed the Undergraduate military studies with a degree in International Political Science and the assignment to the Air and Missile Defence branch.
He got promoted to Captain in 2003 and has spent 12 years in the Army tactical units: 4th Air and Missile Defence Regiment and Multinational CIMIC Group, leading units from platoon to company level in operations both overseas and homeland. At MNCG he's been the first deputy CIMIC Coy Commander (2003) and the first HQ Coy Commander for three years (2004-2007). As staff element he has led the J9 branch of ISAF Regional Command West in Afghanistan.
In 2003 he has successfully completed Civil Affairs course at the US Army John Fitzgerald Kennedy "Special Warfare Center and School" in Fort Bragg, North Carolina, USA.
His overseas deployments, all in the CIMIC/Civil Affairs branch, include the Balkans (Joint Endeavor Kosovo 1999-2000 and SFOR Bosnia 2002) to Iraq (Iraqi Freedom 2003 and 2005), Afghanistan (ISAF 2007-2008) and Lebanon (2011).
He has been part of several CIMIC Mobile Training Teams in Denmark, Jordan, the NATO School and Serbia.
Having attended all the CIMIC Courses at MNCG and NATO School (Tactical, Operational, Strategic, Liaison, Staff) he is a qualified CIMIC operator and likes to teach International Negotiations.

In the Academic year 2009-10 he attended the Command and General Staff College (class 10/01) in Fort Leavenworth, Kansas, USA, earning a Master Degree in Military Art and Science (MMAS).
At General Staff level he has worked at Defence level (J3-5, 2010-2013) and Army level (Capability development department – 2013-2015) as SO2, SO1 and Section chief Modernization (2017-2020).
He successfully completed the Italian Defence Joint Advanced Staff Course in the academic year 2012-2013.
Promoted to Lieutenant Colonel in 2015, he has led the Italian CIMIC Battalion until late 2016.

His education has been completed with two other undergrad degrees (Public Relations and International Diplomatic Science) and two Master's degrees in Strategic Studies and International Military Studies.

He speaks English (JFLT 3/4/3/3), French (JFLT 4/4/4/4), Spanish (JFLT 3/3/3/3) and Portuguese (JFLT 3/3+/3/3+).
He is married to Chiara and they have 3 kids: Anna (2012), Luca (2014) and Pietro (2017).

He got promoted to Colonel on the 1st of January 2020 and is MNCG Commander since the 16th of October 2020.